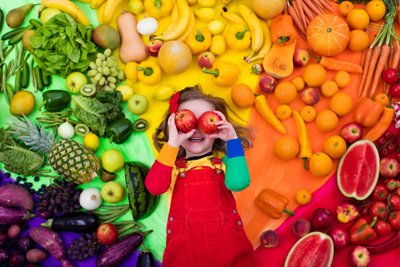 Willowbrae Academy menu is comprised of a four-week rotational menu for two different age groups: ages 6 months to 40 months and 41 months to 12 years of age.
Our menu provides two snacks (morning and afternoon) per day which are comprised of a fruit and/or vegetable, and a grain and/or protein. One main meal (lunch) is offered per day which is comprised of 2 fruit and/or vegetables, and a meat or meat alternative.
The meals are prepared at our onsite kitchen at each Academy and are based on homemade recipes that are nutrient-rich and low in refined grains, sugars, and added salt. We offer a variety of seasonal fruits and vegetables, high fiber whole grain products, plant-based protein options and a variety of meat, fish, and poultry. The foods offered on the menu are culturally diverse which enhances children's eating experience with varied flavors and consistencies. White milk is offered a minimum of once per day. Water is available and offered throughout the day.
Willowbrae Academy meets and exceeds the Ministry and Licensing's minimum recommendations to ensure a variety of foods, textures, and flavors are offered. The variety encourages children to broaden their food selection and encourages a healthy relationship with eating. The Menu also exceeds the nutritional expectations under the health and safety regulations in accordance with the Canada's Food Guide (CFG), Early Years Act (CCEYA).
The menu is endorsed and approved by Andrea Carpenter, Registered Dietitian, a member of The College of Dietitians of Ontario and member of Dietitians of Canada. It Is also endorsed by BodyBreak's Hal Johnson and Joanne McLeod.